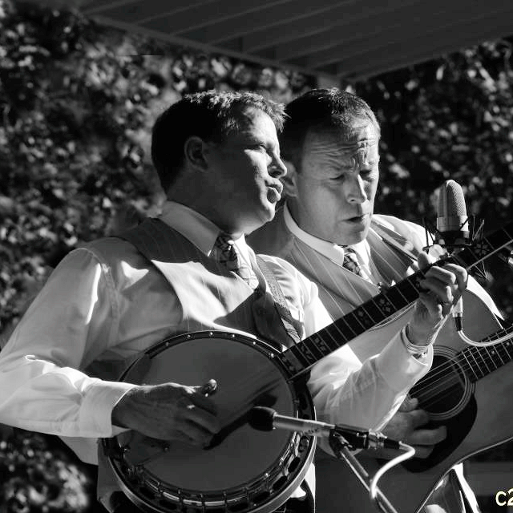 BIOGRAPHY
From the Annapolis Valley of Nova Scotia, Canada, the Spinney Brothers are comprised of Allan Spinney, Rick Spinney, Gary Dalrymple and Terry Mumford.
Brothers Allan and Rick debuted their band in 1992, showcasing a tight brother duet vocal style that was immediately recognized for it's energetic and distinctive sound.
The cornerstone of the Spinney Brothers musical identity is the sound of traditional, southern-flavoured bluegrass music. The first generation bluegrass legends have been an important musical influence, yet their music is equally shaped by their personal lives and local heritage. By incorporating original material, which draws from various sources, the Spinney Brothers effortlessly intertwine the past with the present.
The Spinney Brothers believe in freshness and excitement of traditional bluegrass music. Brother duet singing, backed by supportive and complimentary instrumentation, is the foundation of their tasteful and recognizable sound. Give a listen, and you are sure to be entertained.
ALLAN SPINNEY guitar & vocals
Born in Hamilton, Ontario, Canada, his family moved back home to the Annapolis Valley of Nova Scotia. Allan now makes his home in Grand Pre, Nova Scotia with his wife Lynn & step daughters Lindsey(Jamie) & Jennie & grandson Ethan. Raised in the midst of a musical family, it was country and bluegrass music that played the largest role in his musical up bringing. At a very early age, Allan demonstrated the desire to be a performer. Home recordings have documented his vocal abilities, as early as age six. Shortly after, he took a strong interest in the organ. It was in 1979 however, upon buying his first guitar, that he started down the road to performing on stage. He began studying the guitar works of Smiley Bates, as well as the sounds of Bill Monroe & Flatt & Scruggs. It was the vocal harmonies of the Stanley Brothers however, that really appealed to Allan. He strongly encouraged his brother Rick to explore the music as well.
In 1989, Allan co-founded his first bluegrass band with his brother Rick. The "Bluegrass Student Union" was comprised of Allan, Rick, and their good friend, Steve Jackson. This formation performed at various school functions, variety shows, and benefits. By 1991, Allan was ready to put together a full bluegrass Band. His dream was realized, in the creation of The Spinney Brothers Bluegrass Band. Through out various personal changes, four independent recordings, and years of live performances, Allan continues to craft the Spinney Brothers style of traditional bluegrass music.
______________________________________________________________________________________

RICK SPINNEY banjo and vocals
Born in Hamilton, Ontario, Canada, one year to the day of his brother Allan. As Rick likes to point out, "he
was his brothers first birthday present". Rick makes his home in Gaspereau, Nova Scotia, with his wife
Machaela, son Kasey and his step-son Keegan. Compared to his brother, in his early school years, Rick did
not spend as much time on music. Instead, Rick excelled in sports. First in soccer, and then in basketball.
His dedication to team sports, found him on championship teams at numerous levels. It was with the
persistence of his mother Wava, however, that Rick began examining his musical abilities.
In 1987, Rick obtained his first banjo. After some instruction from local musician Roy Thompson, and Canadian bluegrass great Vic Mullen, Rick was well on his way. Along with his brother, Rick began to study traditional bluegrass music. As a banjo player, the music of Earl Scruggs was very influential. Vocally, Rick and his brother worked on their own style of "brother duet" vocals. With the creation of the Spinney Brothers Bluegrass Band in 1991.

______________________________________________________________________________________
GARY DALRYMPLE mandolin

Gary Dalrymple was born in Halifax, the capital of Nova Scotia. Gary, like Allan and Rick, grew up in a musical family. Gary makes his home in Lower Sackville, NS. His father, Carl was a local Country and Bluegrass musician. Gary was exposed at an early age to the recordings of Country and Bluegrass greats like, Buck Owens, Merle Haggard, Flatt and Scruggs, and Reno and Smiley to name a few. Gary began attending Bluegrass festivals with his family and soon had an uncontrollable urge to play an instrument. He thought that he would play the 5-string banjo, but intuition steered him toward the mandolin. He bought his first mandolin in March of 1984, it was a "Newfeld" mandolin.
He was encouraged by local musicians at festivals to keep it up, and with the early inspiration of the pioneers of Bluegrass music, he strived to develop his style of Traditional Bluegrass. It was the drones and double stops of Benny Martin and Paul Warren, whom all played with Flatt and Scruggs, that caught his attention. Their style of fiddle convinced Gary that this music was extra special, and Gary decided to take up playing the fiddle as well.
Gary played with several local bands until 1993, when he joined the Spinney Brothers. With his southern bow on the fiddle and lonesome tremolo on his Gilchrist mandolin, Gary adds the final ingredient necessary for Genuine Acoustic Bluegrass Music.
______________________________________________________________________________________

TERRY MUMFORD bass

Terry Mumford, who lives in Dartmouth, Nova Scotia, has been a country music radio fan since he was a boy. Active in school band programs, Terry as a member of the Nova Scotia Youth Orchestra and the local Army Reserve Band. Proficient on trombone euphonium and tuba as well as bass, Terry still serves with the 36th Canadian Brigade Group Band as the Assistant Director of Music.
Terry was also highly influenced by "Don Messer's Jubilee". Terry joined a new band program started by Brian Johnston. Terry learned the trombone, euphonium, tuba, as well as doing some conducting. He became a member of the Nova Scotia Youth Orchestra, as well as the local Army Reserve Band. Terry still serves with the 36th Canadian Brigade Group Band, as the Assistant Director of Music. As many people do, Terry got "hooked" to the music, after attending his first festival. He took up both the bass and banjo, and thru the years, has performed with local groups such as Custom Made, Blue Haze, Just In Case, and Sunrise. Terry joined up with the Spinney Brothers in 2004. In addition to his bass playing, Terry also has been doing sound at the majority of The Spinney Brothers bookings.
1991-2023 The Spinney Brothers
©