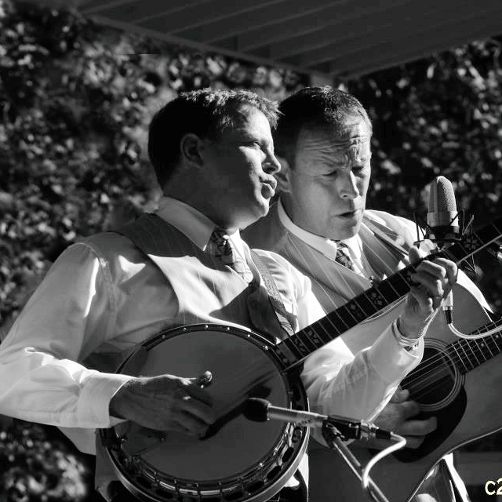 The SPINNEY BROTHERS To Tour Again!!
The Dynamic Duo Will Play Select Dates
FOR IMMEDIATE RELEASE
Wolfville, NS (Canada) – Mountain Fever Records recording artists, The Spinney Brothers, are pleased to announce that in 2023, they will resume performing, focusing on select dates.
From the Annapolis Valley of Nova Scotia, Canada, brothers Allan Spinney, on guitar and vocals and Rick Spinney on banjo and vocals, debuted their band in 1991. Known as Canada's International Bluegrass Band, they featured a tight brother duet vocal style that was immediately recognized for its energetic and distinctive sound. They went on to release 12 albums, including four very successful releases on Mountain Fever Records. These Mountain Fever recordings played a large role in the worldwide recognition that would follow. The brothers charted four number one hits, countless awards at the Eastern Canadian Bluegrass Music Awards, as well as nominations for three IBMA Awards, including Emerging Artist and Song of the Year. Live performances included such prestigious stages as Bill Monroe's Bean Blossom Festival, Ralph Stanley's Hills of Home Festival, Nashville's Station Inn, and Merle Fest, to name a few.
In May of 2017, after the rigors of twenty-five years of touring, The Spinneys announced they were getting off the road. Deciding to spend more time at home and with growing families, the siblings had to make the decision to step away from their grueling travel schedule.
Having never lost the love for the music, the Spinneys are thrilled to be in a position now to resume live performances. Although it will be at a drastically reduced pace compared to tour schedules in the past, still, the brothers are thrilled to be moving forward with The Spinney Brothers Bluegrass Band. Joining the brothers will be long time bandmates, Gary Dalrymple on mandolin and Terry Mumford on bass.
In recent conversation on their decision to once again perform, the brothers noted:
"We were always so grateful for all the opportunities that came our way, and for all the faith countless people put in us; the promoters, DJs and of course, the fans. Traditional bluegrass music is in our blood, and we are so excited to have the opportunity to get out once again and perform"
The Spinneys' performance calendar will consist of a limited number of select dates, starting in
2022. Focusing initially within their region, the booking process has begun, and announcements
of dates will be made through their website at
and on their Facebook page.
_______________________________
Radio Broadcasters may request a direct download link to
The Spinney Brothers' music by emailing radio@mountainfever.com or find them on AirPlay Direct.
The Spinney Brothers
Gary Dalrymple
(902)222-4835
gdalrymple@eastlink.ca
1991-2023 The Spinney Brothers
©